Disclaimer: This is NOT a family version of Monopoly. Monopoly Live involves real money and should not be played by anyone who is not of legal age to gamble.
Some great music, a couple of beers and a friends' monopoly game have been your Friday night plans for who knows how long, but this one time no one from the group can host it?
Fear not, there is an alternative out there, and it will spice up your board game nights big time. Bring your Monopoly with friends to a whole new level with Monopoly Live!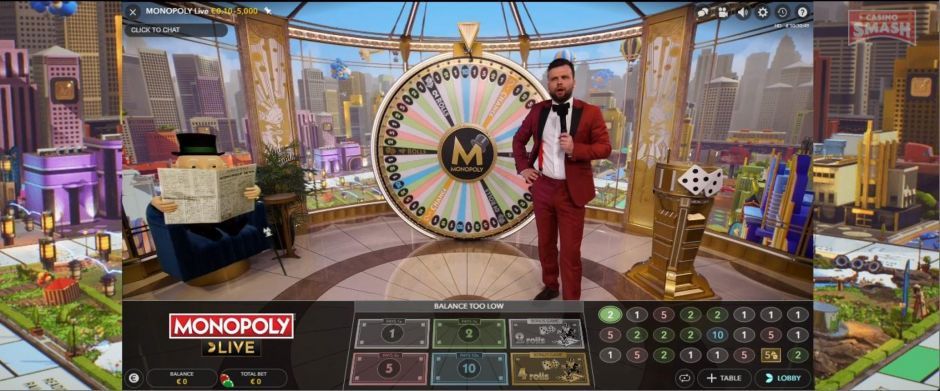 As for most board games, Monopoly online with friends free versions are probably out there, but players can always choose to give the real money version a shot--
It's basically everyone's favourite game with a few upgrades brought to your computer screens by a live host!
Monopoly Online with Friends: Monopoly Live Version
The house rules for Monopoly Live differ from the board game version of it, so let's dive in to see just how exciting the experience of Monopoly online with friends can be!
First things first, forget Monopoly as you know it. Now you get to play Monopoly online with friends, not against friends.
No more trying to outsmart your friends in an auction or paying rent for landing on a property you were certainly going to buy had you only gotten the chance to do so before your friend.
Playing Monopoly Live means playing against a casino, and not your friends, so you can all sit back, relax, and watch each other land real money wins.
How?
While this is not an online multiplayer version, but you do get to see who won on the bottom left part of your screen.
As if that wasn't enough, you can crack your inside jokes on the live in-game chat available to you at the top left.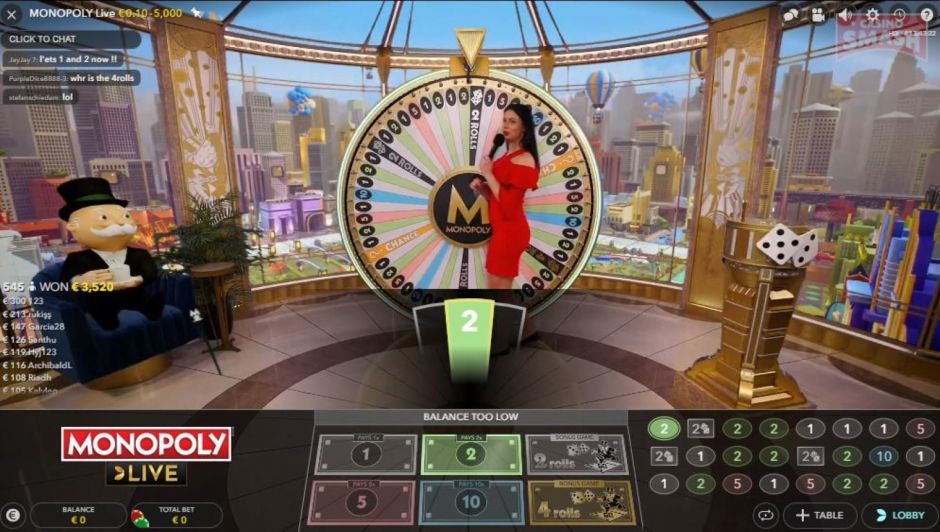 Just because you're not sitting next to each other doesn't mean you can't be as excited as usual!
How to Play Monopoly Live
When it comes to the house rules, there really isn't a whole lot to learn, and that only adds to the experience - no one is trying to learn a completely new game here, right?
1. The Wheel Game
Basically, you place bets on the segment of the wheel on which you think the wheel will stop, and the charming host will spin it for you to find out whether that happens.
The segments include:
Numbers 1, 2, 5, 10. Bet on the right one, win a corresponding bet and start to build up your bankroll!
Chance. Get excited, as Mr. Monopoly is about to pull a card out of his pocket, which can only mean great things to you - cash prize or multiplier bonus!
Rolls. 2 Rolls and 4 Rolls segments are available on the wheel and this is where the game really starts.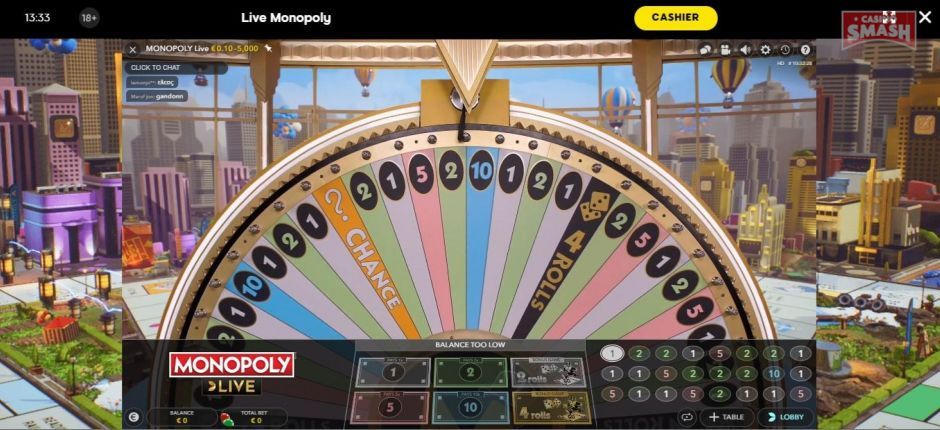 With numbers and "Chance" all is clear, but whenever the wheel hits "Rolls", players are treated to a new experience.
2. Bonus Round
Many Monopoly board game players will be stoked to find out that the board didn't actually disappear, and neither did Mr. Monopoly!
From Super Tax to Jail and Community Chest, all the Monopoly elements players know and love are here.
Mr. Monopoly will stomp around the 3D board, granting players prizes, bonuses, multipliers, and a lot more!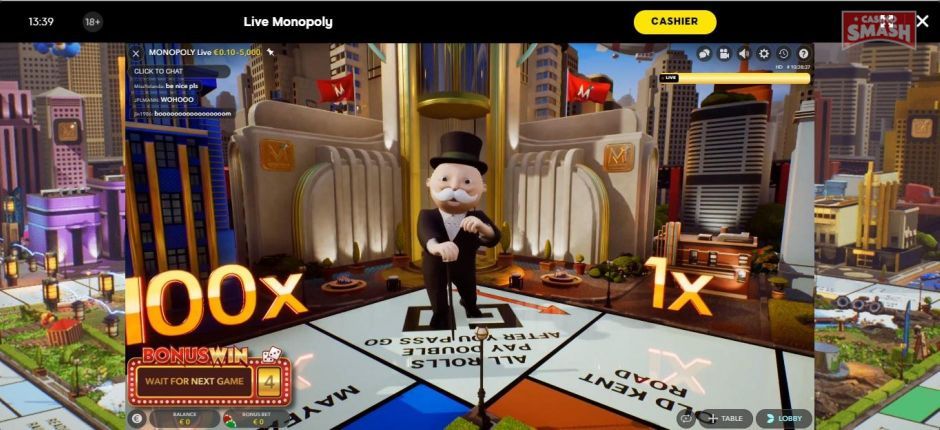 Players don't necessarily get to build houses or hotels on their property, but watching the bankroll increase with each step of Mr. Monopoly is just as fun.
Plus, there are no nerve-racking decisions of whether you should buy or pass once you land on a good property, so consider that part a lot less intense. Every time Mr. Monopoly lands on a property, you're granted a prize!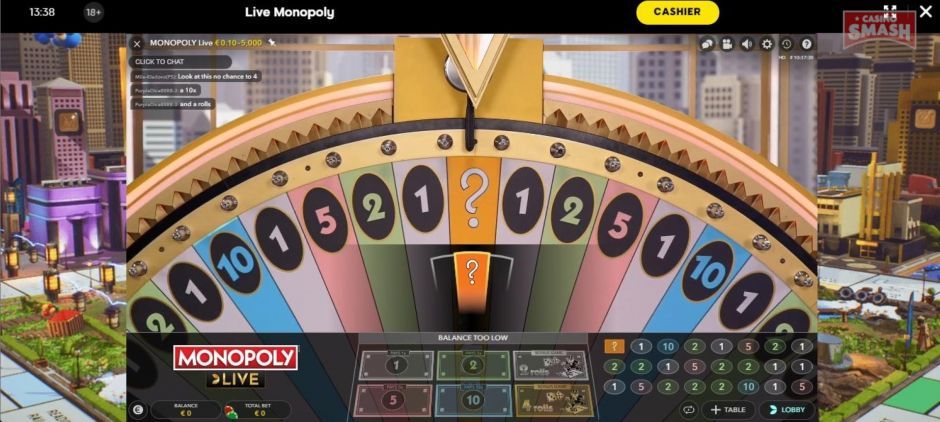 Where to Play Monopoly Game Online With Friends
Players who feel like giving Monopoly Live a shot and amping up their board game night can do so at several online casinos, but we've decided to only offer the best.
888casino will ensure your friends-night-in gaming experience receives the treatment it deserves; live shows and games like Monopoly Live are what 888casino is well known for and excels at.
The live streaming technology is supplied by the industry leaders, Evolution Gaming, so you can rest assured that as long as your internet connection is intact, no annoying lags will keep you or any of your friends waiting!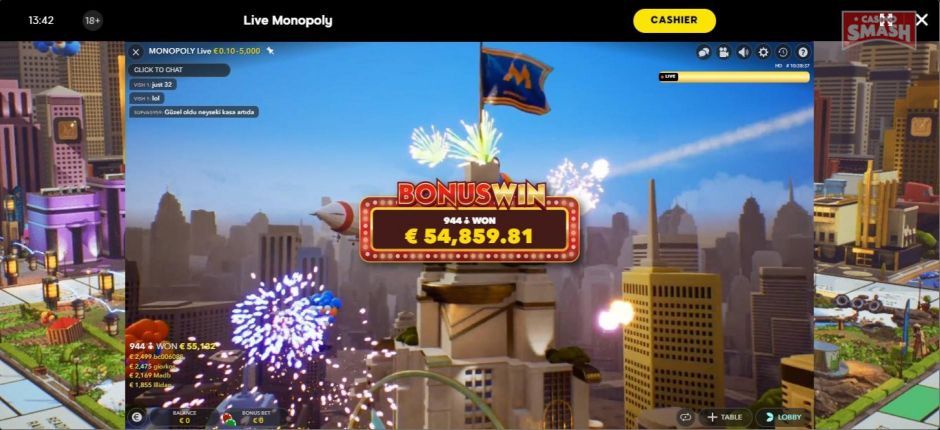 Playling Monopoly with Friends on Mobile
888casino Monopoly Live version is fully mobile-compatible and will allow you to stay on top of your game night tradition even if you're away.
You can download the mobile app or play from your browser, whatever you prefer!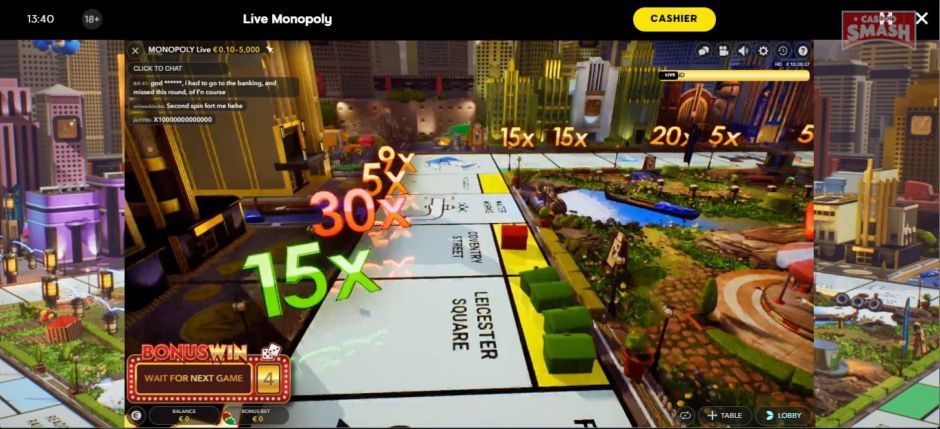 Monopoly Online With Friends FAQ
Can you play Monopoly online with friends?

Yes! You can check out some free online multiplayer versions, or you can introduce a real money challenge and turn the classic Monopoly game into a completely different, thrilling experience. If you want a whole new side of Monopoly, play online version called Monopoly Live, and you'll see what the hype is all about.
Can you play Monopoly online?

You can do pretty much anything online, including play games like Monopoly. In fact, online Monopoly can be just as fun as board games, so be sure to give this game a shot. Check out the Monopoly Live version offered by this online casino, but please keep in mind that real money risk is involved.
What game can I play with my friends online?

It depends what you're looking for. If you're looking to raise the stakes and play with real money for some added steam, Monopoly Live is an awesome option. If you're into Monopoly, games like Dream Catcher should also strike your fancy. Your entire group is also fans of cards? Hit the live blackjack tables. Alternatively, go watch the ball spin on the most popular Lightning Roulette wheel. Whatever you do - there will always be enough space for your entire group at the live dealer tables of this casino.
Can I play Monopoly with my friends offline?

Unfortunately, you can't take it offline, as a real-life host is present in this mode of Monopoly. Even if you download a casino app, you won't be able to switch live games offline modes.