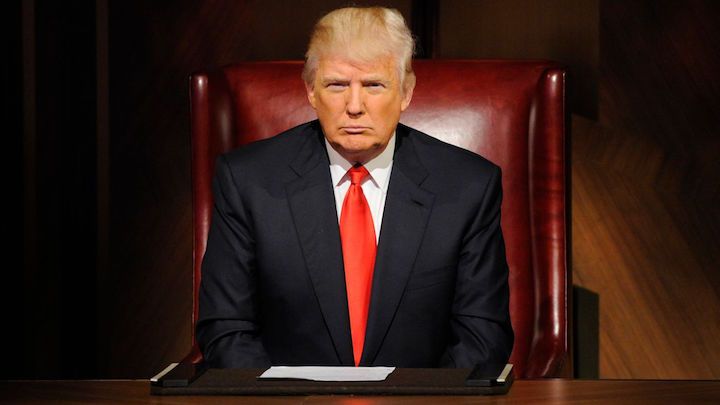 Donald Trump And Gambling: Why Trump Is Scam
What do a mobster, a $450,000 fine for racism, and four bankrupted casinos have to do with Donald Trump?
Racist High Roller Mobsters Were Welcome At Trump's Casinos
As Yahoo Politics revealed on March 7, the man who hopes to replace Frank Underwood (or Barack Obama, if you prefer) in the Oval Office is one who sure knows how to choose his friends.
Take Robert LiButti, for example. Not only he was a hot-tempered horse breeder, but he was also known for being a blunt racist and tied to John Gotti, the Italian-American mobster boss from the Gambino Family.
Can a presidential candidate be close to the Gambino family? YES, HE CAN!
Banned from all casinos in Atlantic City because of his relationship with the New Jersey Mob and his unacceptable racist behavior, LiButti "had a longtime relationship with Donald Trump that included gambling millions of dollars at one of his casinos, flying on his helicopter and partying aboard his private yacht," Yahoo's Chief Investigative Correspondent Michael Isikoff reports.
Sure, Trump immediately denied having any personal relationship with LiButti, but he also failed to explain why - back in 1991 - the Trump Plaza received a $200,000 fine by New Jersey regulators "for violating anti-discrimination laws involving complaints linked to LiButti's racist behavior inside the casino."
In case you are wondering what LiButti's behavior was like, here's what Isikoff says about it.
"He did not want women, blacks or other minorities dealing or supervising his games," according to one filing by the state Division of Gaming Enforcement. He referred to one Trump Plaza floor person as a "dumb c***" and "dumb bitch," another as a "Jew broad" and an African-American dealer as a "black bastard." Finding himself playing with an African-American at his craps table, LiButti shouted, "Shoot the f***ing dice. Shoot the f***ing dice like you're f***ing some n*****," according to testimony in the case.
Shoot the f***ing dice. Shoot the f***ing dice like you're f***ing some n*****
There is more. Accommodating LiButti 'gentle' requests to keep away black people from the tables cost Trump an additional $450,000 fine - quite a sum for someone Trump said he wouldn't even be able to recognize. "During the years I very successfully ran the casino business, I knew many high rollers," Trump said. "I assume Mr. LiButti was one of them, but I don't recognize the name."
We all know Trump has no reason to lie about this, and we all believe him: he's running for President of the United States, and he's obviously not going to lie to his voters, right?. What is harder to understand is why LiButti's daughter Edith Creamer decided to call the loud and blond candidate 'a liar.'
"Of course he knew him," Creamer said. I flew in the [Trump] helicopter with [Trump's then wife] Ivana and the kids. My dad flew it up and down [to Atlantic City]. My 35th birthday party was at the Plaza, and Donald was there. After the party, we went on his boat, his big yacht. I like Trump, but it pisses me off that he denies knowing my father. That hurts me."
But that's just a conspiracy by the Democrats. We all know that. Damn you, President Underwood. You are a dirty man.
Trump bankrupted not one…not two…not three…but FOUR casinos
However, really - how not to smile when Mr. Trump says that he "very successfully ran the casino business" for years?
Although he doesn't miss a chance to remind everyone that he is "REALLY RICH," the man who's equally famous for his haircut, his mouth, his wife Ivana, and his daughter Ivanka, must have a very interesting idea of what 'being very successful in gambling' means. Especially as Trump's adventure in the gambling business has been a bit like a round of Russian poker: you may have fun for a while, but there's a very good chance your pockets will be empty by the time you leave the table.
Bankruptcy #1. The Trump Taj Mahal
The Trump's Taj Mahal Casino Resort opened in Atlantic City in 1991 and for a short while it hosted the second-largest poker room in town after the one at the Borgata. Cost almost 1 billion dollars, the resort was inaugurated by none other than Michael Jackson. And, oh, it was even home to New Jersey's very first in-casino strip club!
Trump's great eye for business must have missed something this time. Despite the magnate's grand plan, the casino filed for bankruptcy in 2014 and was sold to billionaire Carl Icahn in February 2016.
Bankruptcy #2. The Riverboat Casino
After it filed for bankruptcy in 2004, the Trump Hotels & Casino Resorts renamed into Trump Entertainment Resorts (TER). To survive the debts that always come with success, Trump had to get rid of some of its most unproductive assets, like a riverboat casino the company controlled in Indiana. One year later, the casino and hotel was sold to the The Majestic Stars for $253 million.
Bankruptcy #3. The Trump Plaza Hotel
This one should count twice since the Trump Plaza Hotel went through the bankruptcy process twice - in 1992 and 2004. The hotel was finally closed in 2014.
Bankruptcy #4. Trump's Castle
Initially built by the Hilton Group, this iconic resort was then sold to Trump after the company was denied a license to offer gambling services in New Jersey by the State of New Jersey. The resort opened in 1985 as Trump's Castle and was rebranded into Trump Marina in 1997.
As Associated Press reports, after Trump Entertainment entered bankruptcy the Republican candidate sold the Trump Marina Hotel Casino to Landry's Inc for $38 million. This was a successful and brilliant operation, especially if you consider that the sum is reported to be one tenth of what the Coastal Marina LLC offered to pay for the casino in 2008. Today, the Trump's Castle operates as Golden Nugget Atlantic City
Lead image courtesy of RollingStone.com
Disclaimer: Gambling is a game of chance and there's no sure-fire formula that guarantee winnings. You can improve your winning chances by using the right in-game strategies but there is no way to predict when a machine or a Casino game is going to pay. Also, this page contains affiliate links. If you click through and play, we might earn a commission. That's what allow us to keep CasinoSmash free and bring you the best online Casino bonuses!