Win at Atlantic City Blackjack: Rules and Strategy to Succeed

When it comes to card games where the player must beat the dealer, few options compare to the classic Blackjack.
Whether you land a perfect "21" on your first hand or push the dealer until they bust, a win in Blackjack always feels like a skilled accomplishment. In so many words, it takes strategy to properly leverage the rules and structures of Blackjack to your advantage.
The same goes for specialized Blackjack variants such as Atlantic City Blackjack.
This variant is popular in Atlantic City's numerous casinos and has gained a devoted following in all the best online casinos given its unique rules and player/dealer dynamics.
Those who have only played standard Blackjack may not understand Atlantic City Blackjack's several intricacies, though.
If you've found yourself in this boat or simply want to rehash your existing skills by reviewing the basics, then this brief guide should help you succeed the next time you join an Atlantic City Blackjack table.
Understanding the Core Rules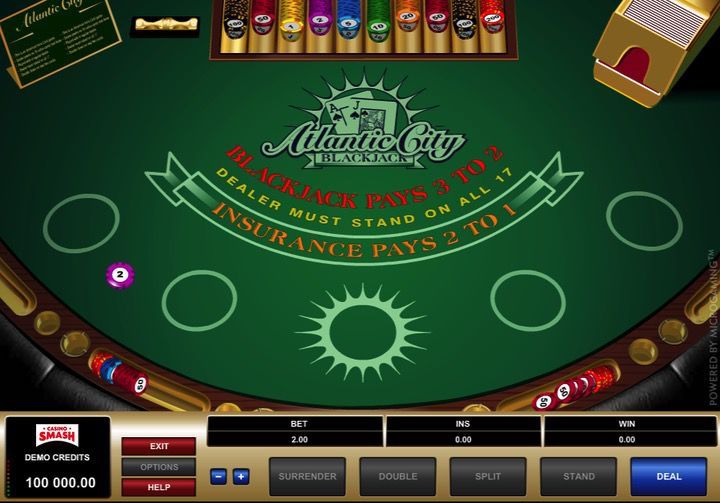 Assuming that you are already familiar with the standard rules of Blackjack, these following rule summaries should allow you to see where Atlantic City Blackjack differs from its predecessor.
Be sure to commit each of these new rules to memory, as each will play a crucial role in setting the stakes for your upcoming Atlantic City Blackjack games.
Note: Some independent online casinos may include additional rules in their iteration of Atlantic City Blackjack.
Always read into your table's rules and payoff policies before placing your wagers.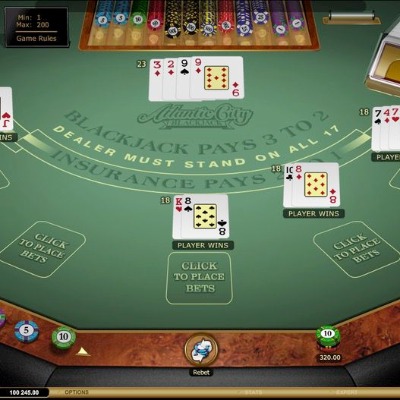 Get 100k Credits to Play!
Register a free gaming account to get 100k credit on Atlantic City Blackjack.
Use the free bonus to become a true Blackjack pro!
Dealer Stands on Hard & Soft 17
First and foremost, one of the most significant systematic differences in Atlantic City Blackjack is that the dealer is required to stand on both a hard 17 and soft 17.
In many ways, this has the most strategic implications for players in their efforts to overcome the dealer.
While a hard 17 has obvious advantages for the dealer, a soft 17 (an Ace and any "6") is unable to bust if hit with an additional card.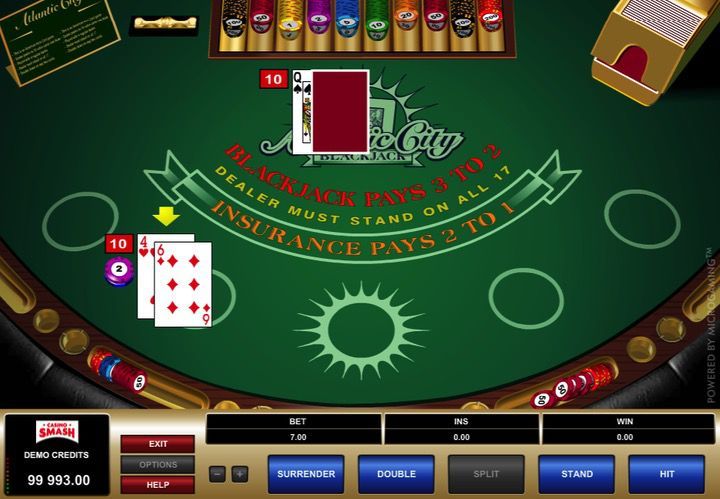 As such, the dealer is forced by this varied rule structure to stand when it would otherwise be in their advantage to hit and push the envelope further.
On the reverse side, the player is still free to do what they wish with a hard or soft 17.
As a result, the player retains a higher degree of liquidity (and consequently, a higher chance of success) for this high-efficiency sum value.
More Chances to Split
In standard Blackjack, you are able to split a standard hand with two cards of matching value in order to double your betting opportunities.
While this action can only be taken once in standard Blackjack, the Atlantic City rule set allows a player to do it up to three times.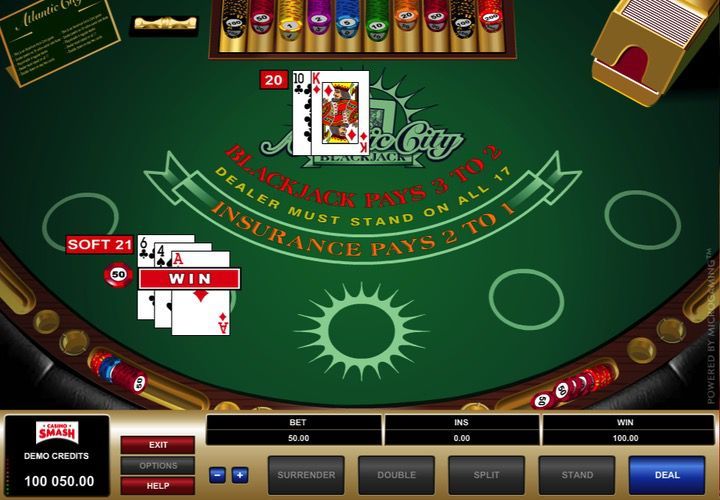 As such, the player can massively expand the stakes if they continue to receive advantageous flops.
There is one exception to this modification, though. Hands with two aces can only be split once by virtue of their inherently high liquidity.
Besides this, though, players are empowered to split successively at their own discretion.
Double Down after a Split
Following in the same vein as the previous rule modification, Atlantic City Blackjack allows a player to double their bet after splitting their hand.
This comes with one major caveat, though. In order to double up on a split hand bet, the player must draw another card.
Depending on the circumstances, this may be a measured gamble based upon the progression of the game up to that point.
However, those splitting 10s and aces will have a great chance to automatically score high with this rule. Here, again, Atlantic City Blackjack provides fresh opportunities for players to beat the dealer and win.
Recovery through Surrender
In many casinos, rules exist to allow players to back out if they feel the odds are stacked against them from onset.
For example, a player may be able surrender as soon as the dealer pulls an ace or 10 in their initial flop.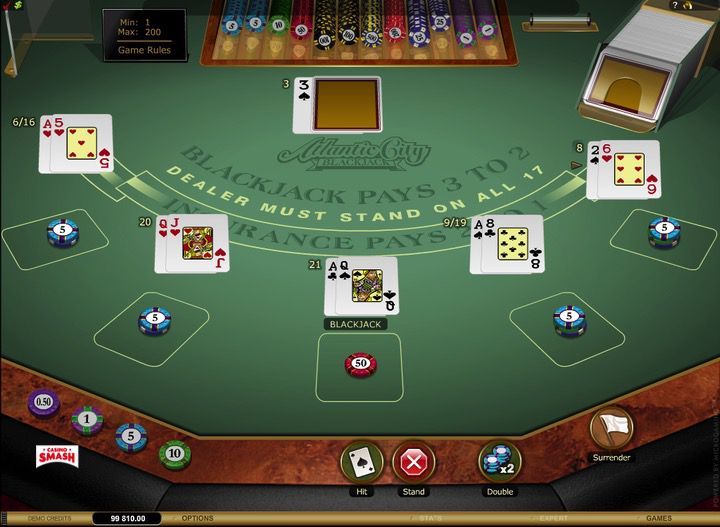 In Atlantic City Blackjack, a dealer who reveals an ace or a 10 in these circumstances may offer a surrender bet.
Often, these bets allow a player to recoup at least half of their initial bet without further penalty.
However, accepting this bet then puts the player's odds in the dealer's court. In other words, the player may still "win" more in a surrendered round if the dealer manages to accumulate the highest card value sum.
Advantages and Disadvantages
As noted, Atlantic City Blackjack provides a variety of advantages to the player compared to standard Blackjack.
Most obviously, this unique variation runs by most of the same rules, making it easy for current Blackjack players to cross over.
By learning just a few rules and adjusting strategies accordingly, a regular Blackjack player can really take advantage of the house's decreased strategic versatility in Atlantic City Blackjack.
To balance these modified odds, many physical and digital Atlantic City Blackjack tables play with 8 decks at once. This can make strategic card counting very difficult. This can serve as a disadvantage to seasoned players who use this precise strategy to protect themselves against unfavorable odds.
Also, a fair number of Atlantic City Blackjack tables pay 6-5 on Blackjacks, which is far worse than the standard 3-2 rate.
When in doubt about either the deck volume or payoffs, be sure to ask the dealer before play begins.
Strategies for Success
If you're looking to raise your Atlantic City Blackjack skills to the next level, consider applying some of the following strategies next time you sit down at the table:
Double Down on Certain Soft 17s – If the dealer's up-card is a 3, 4, 5, or, 6, there is an inherently higher probability that they will eventually bust. If you push the envelope by doubling down with a soft 17 in your court, you greatly improve your odds of winning on two different fronts.
Don't Get into a "Due to Win" Mentality - Atlantic City Blackjack, like other card games, rely on chance and skill without a reliance on a larger probability that compounds in your favor. Play each hand on its own and set your wagers accordingly.
Don't Drink and Play – Though true of most any type of wagering card game, keep your mind as clear as possible when sidling up to the Atlantic City Blackjack table. While the offer of free drinks may be tempting, you should minimize your alcoholic intake over the course of a full game to minimize the chance of being taken advantage of by the house's edge.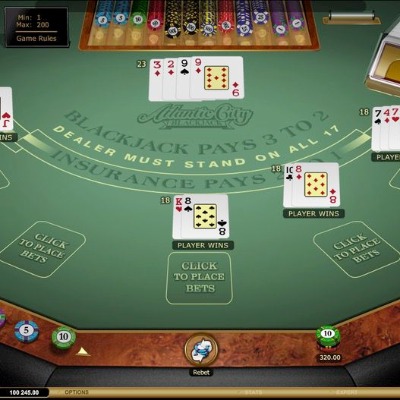 Get 100k Credits to Play!
Register a free gaming account to get 100k credit on Atlantic City Blackjack.
Use the free bonus to become a true Blackjack pro!
Disclaimer: Gambling is a game of chance and there's no sure-fire formula that guarantee winnings. You can improve your winning chances by using the right in-game strategies but there is no way to predict when a machine or a Casino game is going to pay. Also, this page contains affiliate links. If you click through and play, we might earn a commission. That's what allow us to keep CasinoSmash free and bring you the best online Casino bonuses!